Have you seen the new Green Ocean TV on-demand real estate training video platform with GO action items?  That is a mouthful… we will unpack it further down.
A have a small role in this product launch.  You may have noticed that I have been promoting a podcast recently.  Green Ocean Weekly Podcast, where I am a co-host.  Along with my friends Howard Chung and Paige Ward.
The Podcast is not the same as the platform.  We produce the Podcast in order to try to build community within the real estate agent world.
The platform is where we put the Industry Leader Master Classes.  Yep, the good stuff.
Check out the Green Ocean TV Trailer…
We are currently offering 2 specials for new clients:
Get 50% Off Your Monthly Fee (the coupon code will be entered automatically before checkout)
What Does Green Ocean Mean
There is a strategy called the blue ocean strategy and it's a fairly well known book. The idea of a blue ocean is all about standing out from your competition and giving yourself an opportunity to compete in the competitive real estate industry.
Oftentimes the only way to compete is by reducing your price basically a cost-cutting system.  We would call that being in the Red Ocean.  The red ocean is where you're competing by just dropping the price and a lot of companies have successfully done that.  They enter your market and basically say, we're gonna be the cheapest.
The blue ocean approach is saying what if you create a brand new market that doesn't even exist out there.  A good example is Costco. The Costco model is that they make the vast majority of their money by membership fees.  If you really think about it prior to Costco how many brands were focusing their entire business model on the memberships or
subscriptions?
As a real estate professional what is a brand new product or service that you could potentially offer?  For example, i-buyers want to introduce a brand new product directly to the consumers where now you can just bypass agents for the most part and go ahead and sell your home directly to us.
Now what does that all have to do with a green ocean? We've all seen a beautiful green ocean, and if you think of a green ocean you think about Hawaii or somewhere tropical.  It's amazing with that beautiful green tint and the reflection. A green ocean is actually the makeup of water, light and phytoplankton which are basically the nutrients.
The best educators and thought leaders teaching us what they know, that is the light.  The water is basically all the technology and data, all those ones and zeros.  The community that all of us who love the real estate business who really believe in real estate and home ownership and helping clients and the real estate transaction is the phytoplankton.
What is On-Demand Video Platform
Think of Netflix for real estate training, but with interactive action items.
Each of the industry thought leaders have filmed a Season of Masterclass material.  Each season is broken up into easy to digest episodes.
No matter where you are in your learning needs, you can skip to the Season or Episode that applies to you. Or you can just watch straight through and soak up all the amazing content that each presenter is offering.
It is super easy to use.  Just login and start browsing all the different shows.
The platform is compatible with all viewing devices; desktop, laptop, tablet, iPhone or Droid.
You can grow in your real estate career anywhere you can get wi-fi or a cell signal.
The best part is that new content will be added on a regular basis.  New thought leaders with new action items.
We are currently offering 2 specials for new clients:
Get 50% Off Your Monthly Fee (the coupon code will be entered automatically before checkout)
What is Real Estate Training
This may seem obvious, but it is worth talking about.  I think we all understand the concept of real estate training but I also think it can mean many different things.
In the most basic form it is the clock hours that we need to get and maintain our real estate license.  This is not that.
What is it?  It is all encompassing.  For example we have a leader in team management, a leader in real estate trends, a leader in occupational psychology, a leader in digital marketing, etc… and many more to come.
Different hosts may relate better to different viewers needs.  For example if you own your brokerage you may be more interested in Management and Leader training.  If you are a managing broker you may be more interested in business psychology and if you are an agent you may be more interested in learning about marketing techniques.
We can choose whatever content meets your needs.
What are GO Actions™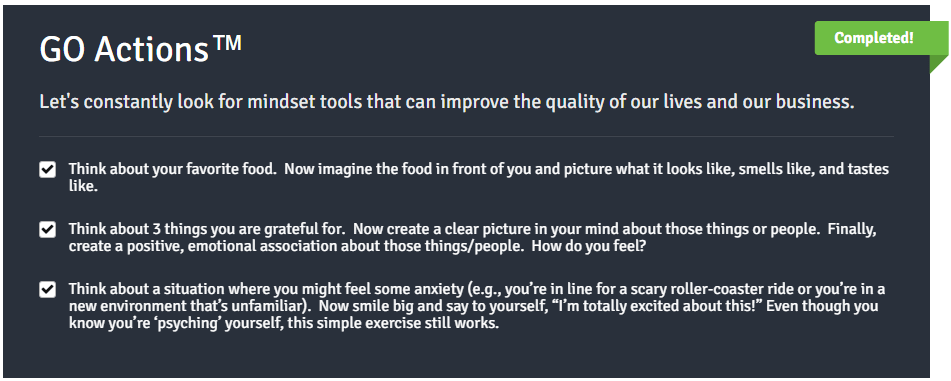 This is the Secret Sauce.
Have you ever paid $100 to go to an all day real estate conference and heard so much good stuff?  So many ideas and concepts that you are going to put into practice.  Systems and techniques that are going to boost your productivity and make you the super agent you are supposed to be.
Then the next day you wake up and can not remember any of it?  That is because you were not in a position to take action.
Idea's are a dime a dozen.  Everyone has good ideas.  As a matter of fact I tend to have an amazing idea about every other shower.  But ideas are just that… ideas.
It is not until you take the idea and put it into action that you will see the results.
GO Actions™ Are Your Guide to create a rhythm of progress.
Here is an example of a Go Action that will be associated with each episode that you watch:
Green Ocean Weekly Podcast
The Green Ocean Weekly Podcast is a show for current and aspiring leaders in real estate.
With constant changes in the residential real estate industry, real estate managers and sales professionals need to come together and learn modern sales skills, mindset skills, emerging technology, and marketing best practices.
Each week we will bring you real estate information that is right now.  Special guests, tech tips, industry trends, current events and motivation.
Here is Episode 5: Mid-Year Review
To Subscribe or Listen to More Episodes:  https://go-podcast.simplecast.com/
Ready To Give Green Ocean TV a Try
We are currently offering 2 specials for new clients:
Get 50% Off Your Monthly Fee (the coupon code will be entered automatically before checkout)